Download forex meta trader WeeklyPivot1 Indicator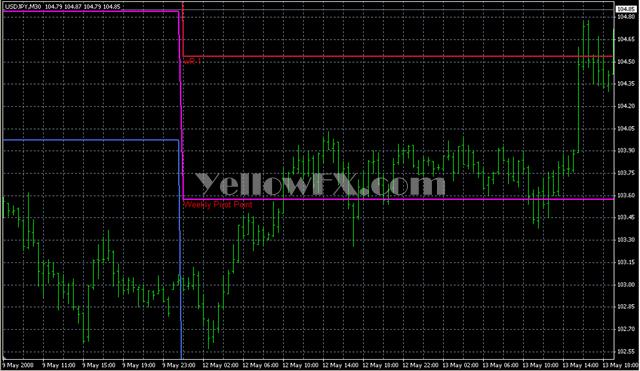 Download WeeklyPivot1 Indicator
Are you seeking a great WeeklyPivot1 Indicator? Thankfully, this page will probably give the answers you are looking for. Fundamentally, you possibly can download this WeeklyPivot1 indicator mq4 for free. As matter of fact, this indicator has been proven and analyzed to work well together with Metatraders – MT4 and MT4 as well as all versions of Metatraders.
We included an image of the WeeklyPivot1 and the graphic displays just what the indicator looks when it is installed in your Metatrader. If you aren't yet convinced to download the indicator, then you will be once you've seen the snapshot. Are you not satisfied with this kind of indicator? Then you must go to our Pivot indicator group for more Metatrader Pivot Indicators that you can pick from.
Reports have shown that there are (0) folks today that have set up WeeklyPivot1 indicator and also the total number of downloads has hit (372). What's the process of downloading this indicator? Virtually all you should carry out is to click on the download icon found listed below and also save it on your desktop. It's as simple as that!
Your act of downloading the WeeklyPivot1 through our site gives pride and delight to us. And it will be great when you will allow it to be known to your good friends that our forex trading indicators catalogue through yellowfx.com has been a wonderful help to you. There's a share button on this page that you can click on as a way to accomplish this. The traders' decision in picking us will rely on the reviews that we will have from you.