Unlike equities or stocks the foreign exchange market(forex or fx) is not a regulated global market. Forex market does not have any physical market like stock exchange. The business take place over amongst agreeable sellers and buyers from all over the world. Forex market does not connected to a centralized network and the the exchange rate might vary from broker to broker.
A market maker forex broker or AKA dealing desk forex operator is an independent firm which purchases financial instrument at their own risk.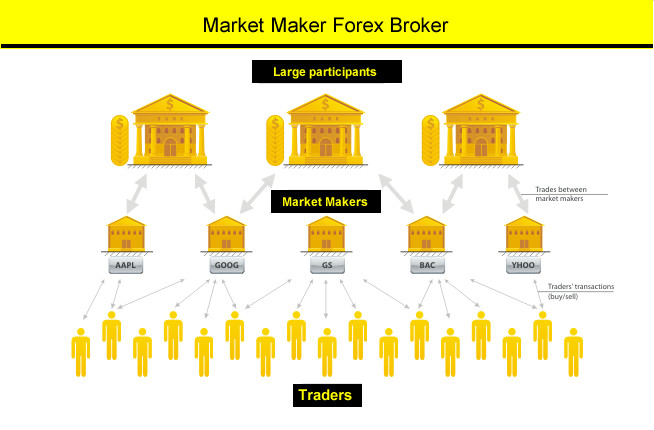 How Market Maker forex broker Works?
Market makers forex broker are those broker who make the market between themselves and the user/investor/account holder under that broker. Every forex transaction has a counter parties that means, if you buy a pair one have to sell it to you. In case of market maker broker, broker is your counter parties, like if you sell EURUSD, market maker will buy it and vice versa.
If you have account with a market maker, that means you do not have a direct access to the forex market. Your broker is sitting on the other side of the terminal and trading against you.
As market makers make their money by doing market making activity, they set the spreads that is bid and ask price for a currency pair. Say your market maker is getting 1 pip spread from inter bank forex market, market maker then add 2 pip with it that is 3 pip and show it to you. As forex market is also competitive those spreads are reasonable
As market maker is a counter party they may decide hold your order and place trade against you. They even try to hedge or cover or even try to pass your order to someone else.
Problem with market maker broker
On market maker forex broker you might experience frequent requotes, and this goes to extreme on an important news event.
As they are setting the bid and ask price, its possible theme to generate spike that will hit your stop loss, this called as sl hunting.
Most of the time you are not going to see the actual ask or bid price as your feeds are manipulated.
Sometimes its hard to withdraw profit money from them.
Sometimes market makers dont like profitable scalpers, and they put them to manual execution, its creates problem or trading as your trade is not going to execute at the right time on the right price.